Stunned Leicester City fans have gathered at the club's ground after its owner's helicopter crashed and exploded in a car park outside the stadium.
Vichai Srivaddhanaprabha was in the helicopter when it came down at about 20:30 BST on Saturday, a source close to the family has told the BBC.
One witness said he saw Leicester player Kasper Schmeichel run out of the stadium towards the scene of the crash.
It has not been confirmed how many other people were on the helicopter.
But a report by Reuters, which the BBC has not been able to verify, claimed four other people were on board with Mr Srivaddhanaprabha.


Image caption
Dozens of flowers, football shirts and tributes have been left outside the ground
Leicester had drawn 1-1 against West Ham United at the King Power Stadium, with the match finishing about one hour before the helicopter took off from the pitch.
Witnesses said they saw it just clear the stadium before it spiralled out of control, with some describing seeing a fireball as it crashed.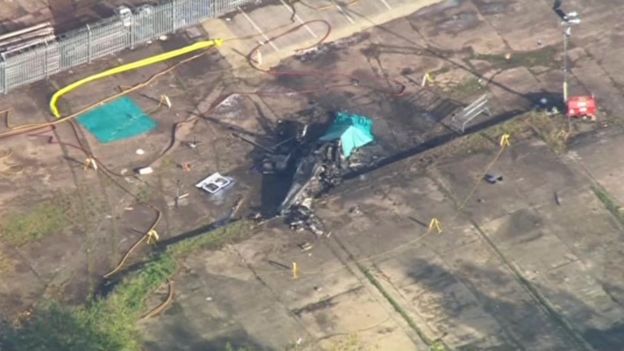 Image caption
It has not been confirmed how many people were on board the helicopter
The club said it was assisting police and emergency services and would issue a more detailed statement in due course.
Under Mr Srivaddhanaprabha's ownership, Leicester City won the Premier League in 2016, having started the season as 5,000/1 outsiders.
At the scene
By Samantha Fisher, BBC News
There has been a steady flow of people wearing Leicester City shirts and hats this morning.
Despite the number of fans gathered here it's very quiet.
Lots of children are also here with their parents laying flowers outside the ground.
Many people have been in tears as they approach stadium and they've all been consoling each other.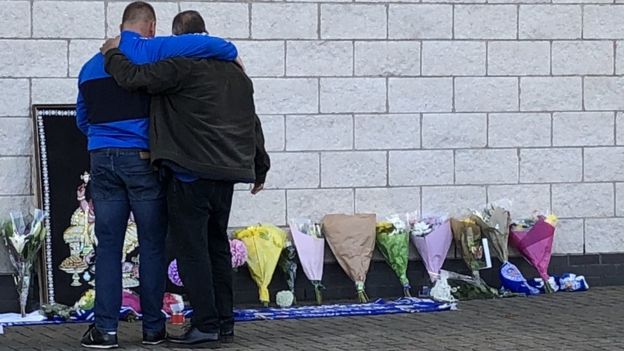 Richard Mobbs, from Burton Overy in Leicestershire, said he last saw the chairman in June when they discussed a player who was about to join the club.
"I spoke to Vichai a lot," the 68-year-old said.
"It is such a shock. You just have to pay your respects."
Image caption
Leicester City season ticket-holder Richard Mobbs (left) and Thai student Anupat Maturongpituck both came to the King Power Stadium to pay their respects

Mr Mobbs described Mr Srivaddhanaprabha as a "lovely, quiet, down to earth man", and paid tribute to his family.
"They are all friendly," he said.
"This season they bought me a season ticket."
Anupat Maturongpituck, a student from Thailand studying at the University of Leicester, came to the King Power Stadium on Sunday to "pay my respects", adding news of the crash has had a "great impact" in Thailand.
Freelance photographer Ryan Brown, who was covering the game, saw the helicopter clear the King Power Stadium before it crashed.
He told BBC Radio Leicester: "The engine stopped and I turned round and it made a bit of a whirring noise, like a grinding noise.
"The helicopter just went silent, I turned round and it was just spinning, out of control. And then there was a big bang and then [a] big fireball."
Media caption
Leicester: It's a serious situation – commentator on helicopter crash
Sky Sports News reporter Rob Dorsett said the helicopter took off from the pitch, as it does after every game.
He said that after a few seconds it appeared to lose control and crashed into the car park just a few hundred metres away.
'I have seen staff in tears' – Reaction to Leicester helicopter crash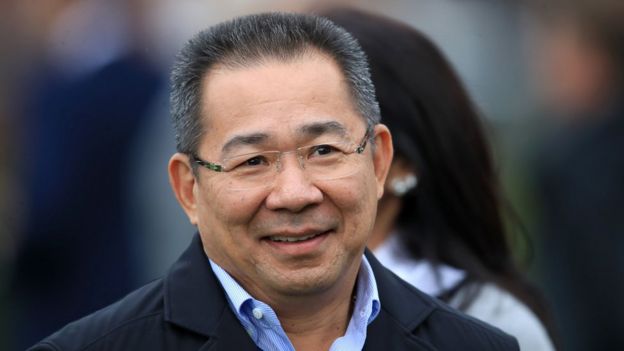 Image copyright
PA
Image caption
Thai billionaire Vichai Srivaddhanaprabha purchased Leicester City in 2010
Leo Bruka told 5 Live that he saw two police officers whose car was near the crash scene.
"One of them was looking for something and the other one, he ran straight away to the helicopter and he was trying to break the window," he said.
"Then there is an explosion and they pulled back because the fire was too hot."
Media caption
'It's horrible, horrible, horrible' – Leicester fans react to the crash
A Leicester season ticker holder, who did not wish to be named, said he saw goalkeeper Kasper Schmeichel run out from the stadium followed by "loads of security guards and stewards".
"I was stood outside the ground but it crashed on the other side," he said.
Another witness said it appeared "the tail propeller wasn't working, putting it into a spin".
Andrew Brodie, assistant chief fire officer at Leicestershire Fire and Rescue Service, said the crash was "clearly serious and tragic".
He tweeted early on Sunday that he had just left "multiagency strategic meetings" at Leicestershire Police's HQ, and asked for people not to speculate on the causes or people involved.
"Think of families, friends, responders, and @LCFC and their fans," he said.
Leicestershire Police said officers were working alongside the other emergency services, the Air Accidents Investigation Branch (AAIB) and Leicester City FC to establish the circumstances of the collision.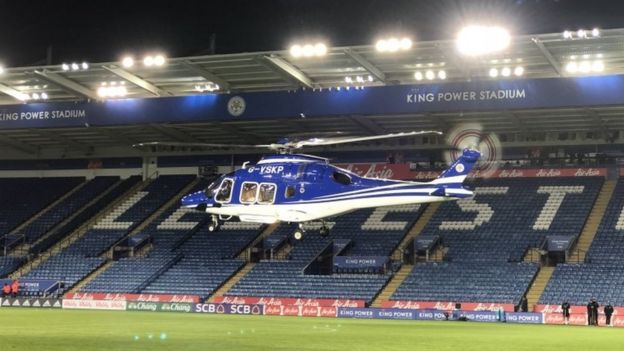 Image copyright
Pete White
Image caption
The helicopter shortly after taking off from inside the stadium
Media caption
Witness John Butcher: "The helicopter just span"
Leicester and West Ham draw 1-1
Leicester title 'inspires the world'
Is Thailand in love with Leicester?
Nick Rushton, leader of Leicestershire County Council, said he was "deeply concerned" by the crash, and paid tribute to emergency services staff for their "professional response".
Labour MP Jon Ashworth, who represents Leicester South, said he had been in touch with emergency services and thanked them for responding so quickly.
The aftermath of the crash
By Ian Stringer, BBC Sport commentator
It is really eerie around Leicester at the minute.
I have seen staff, backroom staff and [the] first team in tears here this evening. The reception area is described as silent, people looking around and crying and not knowing what to do and consoling each other.
I remember the owners taking over. I said hello to them in native tongue, their face lit up. I have generated relationships with them, seen them in Thailand in Bangkok in their home surrounding, they are really nice people.
The chairman looked at me today on the way to the executive box and said "hello and good afternoon".
He donated millions of pounds to Leicester Royal Infirmary, and also gave money to the University of Leicester.
He's taken Leicester into his own heart – it's a hugely important place for him that he's made home. It's a one-club city here in Leicester, and we've welcomed him with open arms.
Leicester Mayor Peter Soulsby tweeted that his thoughts and prayers were "with all – particularly owners who've done so much for club and our city".
Mark Kent, the former British ambassador to Thailand, said he was "shocked" to hear of the crash, adding that he had celebrated Leicester's 2016 title win with the club's chairman.