From the section
Formula 1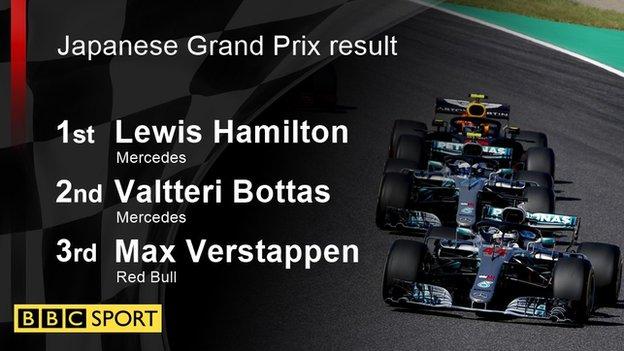 Share
this page
Lewis Hamilton moved to the brink of a fifth World Championship with a lights-to-flag Japanese Grand Prix victory.
Mercedes' Hamilton was dominant as title rival Sebastian Vettel ran into trouble attempting to gain ground from eighth place on the grid.
Vettel spun to the back after colliding with Max Verstappen when trying a move for third place at the difficult Spoon Curve – but recovered to finish sixth.
The result means Ferrari's Vettel is 67 points behind Hamilton.
The Briton will secure the title at the US Grand Prix in Austin, Texas, in two weeks' time if he wins the race and Vettel is lower than second, or if Hamilton scores eight more points than him.
Japanese Grand Prix results
'A gulf in class so big even Hamilton seems to regret it'
Chequered Flag podcast: Japanese GP review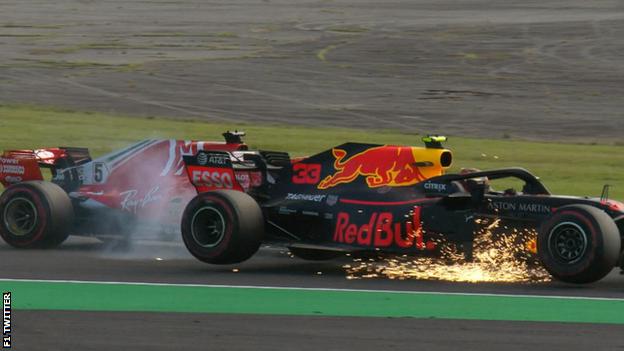 Sebastian Vettel collided with Max Verstappen early on after fighting his way through the field
All action behind Hamilton
It was a soporific race at the front, Hamilton so in control on his way to his sixth win in seven races that he at one point asked his team if they were still there, so little did they need to talk to him.
But behind him, there was action aplenty, much of it focused on Vettel.
The German knew he had to make up ground quickly if he was to have any hope of stopping Hamilton's apparently unstoppable march to the title which, for a long time, looked as if it could be the Ferrari driver's.
And he drove well in the early laps. He was up to sixth by the third corner, passing both Toro Rosso, then fifth when he passed Romain Grosjean's Haas into Spoon.
Vettel was then promoted to fourth at the end of the first lap when Verstappen locked his front wheel of his Red Bull going into the hairpin, ran wide and pushed Kimi Raikkonen off when rejoining the track, allowing
Vettel to slip past his team-mate.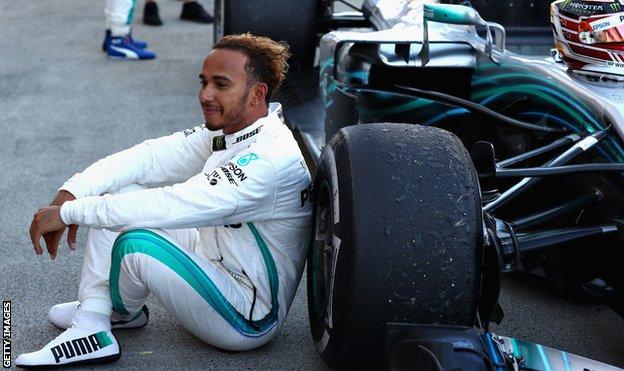 Dreaming: That's five career wins in Japan for Hamilton, but he's thinking of another fifth – the world title, which could come at the next race
There was a short safety-car intervention to clear up debris left by a collision between Kevin Magnussen's Haas and Charles Leclerc's Sauber and bodywork strewn around the lap by the Dane as he returned to the pits with a puncture.
After the restart, Vettel was behind Verstappen and he saw an opportunity to pass into Spoon when the Red Bull slowed approaching the corner as the engine went into energy harvesting mode.
Vettel dived for the inside, Verstappen half defended but left space. The Ferrari was mostly alongside entering the corner, only for the two to collide.
Verstappen continued without losing much time but Vettel spun to the back of the field and was now consigned to a long afternoon fighting back.
The pace advantage of the Ferrari meant he easily climbed back up to sixth by half-distance but that was as far as he could get – and Ferrari declined to order Raikkonen in fifth to slow to let his team-mate by, to gain a couple of extra points.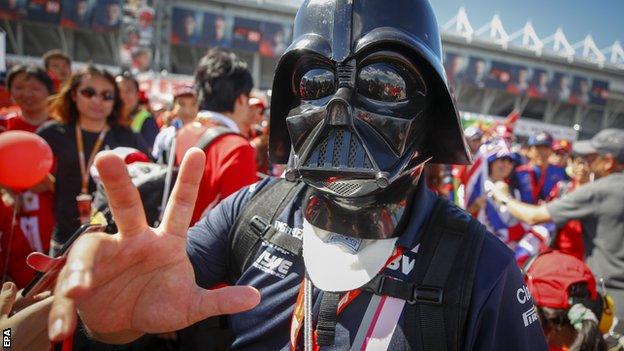 May Force India be with you: Japanese fans dress up like no other for the race
Verstappen pressures Bottas
Hamilton was in total control, but while Mercedes looked to be heading to an easy one-two after the pit stops, his team-mate Valtteri Bottas found himself under pressure from Red Bull's Verstappen.
After a virtual safety car, called after Leclerc pulled off with a mechanical failure, Bottas began to run into blistering problems with his tyres.
Bottas dropped back from Hamilton and Verstappen was soon on the Finn's tail, and although he pressured him the end, the Red Bull driver could not get through.
It was an impressive drive from Verstappen, despite a five-second penalty served at his pit stop for rejoining the track dangerously in the incident with Raikkonen.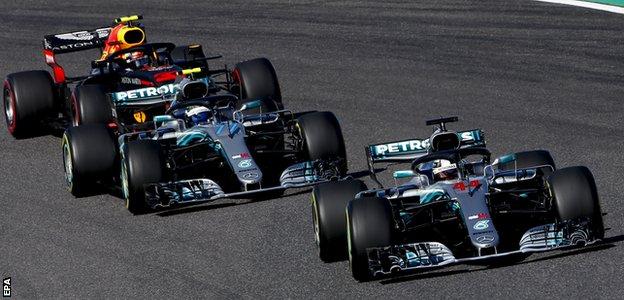 "Keep him [Bottas] under pressure, keep it clean." There were no late-race mishaps for Max Verstappen this time around
Verstappen's team-mate Daniel Ricciardo also drove well, quickly making up ground from his 15th place on the grid following an engine problem in qualifying.
The Australian eventually taking a strong fourth place as Red Bull outwitted Ferrari, who had another disappointing race overall in a season that promised so much but which has unravelled dramatically in its second half.
Force India's Sergio Perez won the battle for best of the rest, from Haas' Grosjean, the second Force India of Esteban Ocon and Toro Rosso's Pierre Gasly.
Driver of the day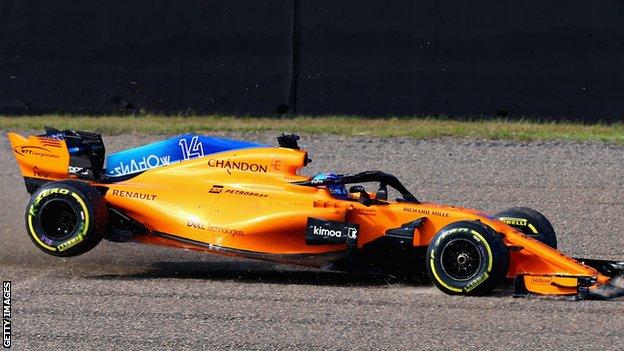 Tricky one, this. Hamilton was supreme, driving superbly and overshadowing Bottas in what has become in recent races a dominant car. Verstappen was hugely impressive – but loses marks for his incident with Raikkonen and the attitude he showed by saying on the radio the Finn "could have waited for me". Fernando Alonso (pictured) drove well to pressure faster cars in the awful McLaren. Judgement reserved
What happens next?
From sublime Suzuka, to amazing Austin. The US Grand Prix is one of the best races of the year – a great track just outside a wonderful city. And Hamilton has pretty much ruled it since its debut on the calendar in 2012. Can he tie up the title in a country which he calls home for at least part of the year? He's going to do it soon.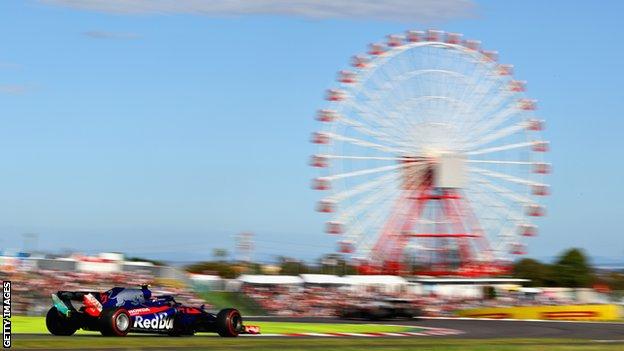 Suzuka is a favourite circuit of fans and drivers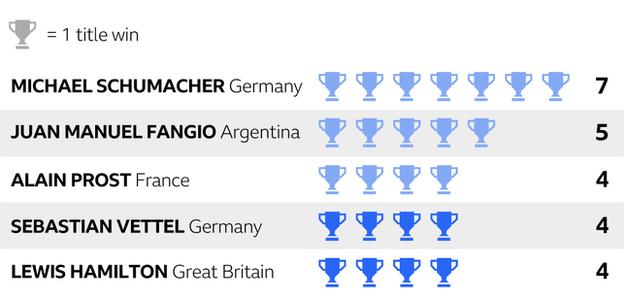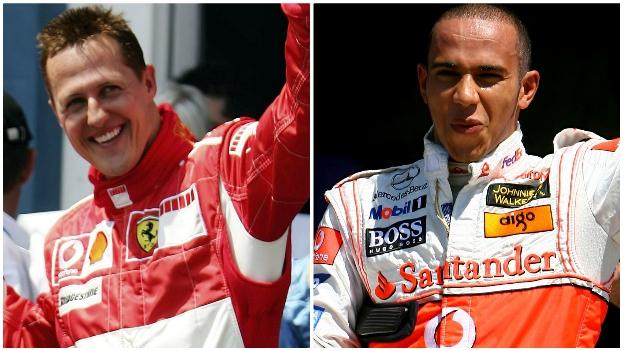 Pole position was Hamilton's 80th of his career. His first was at Canada in 2007, one year after Michael Schumacher secured the last of his 68 poles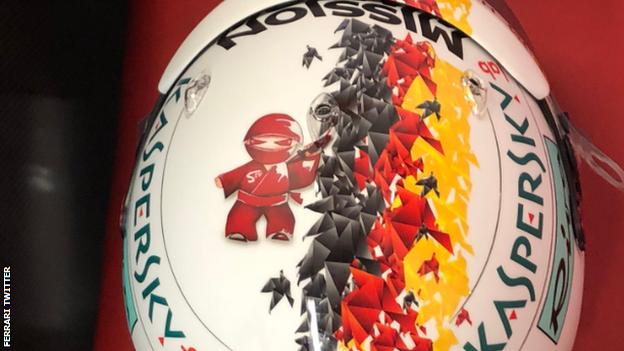 Paper boy: Vettel's helmet design incorporates origami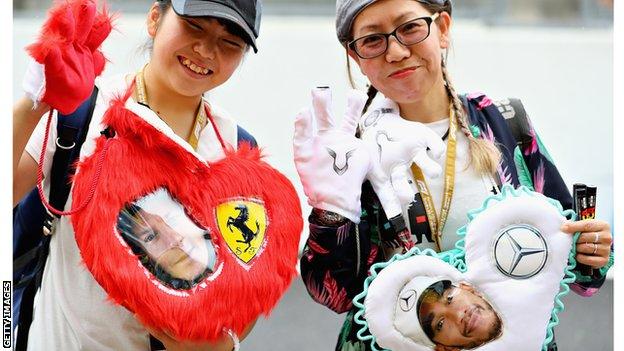 "Ah, see you went for the furry heart with photo pocket option, too." There's plenty of driver love to spare in Japan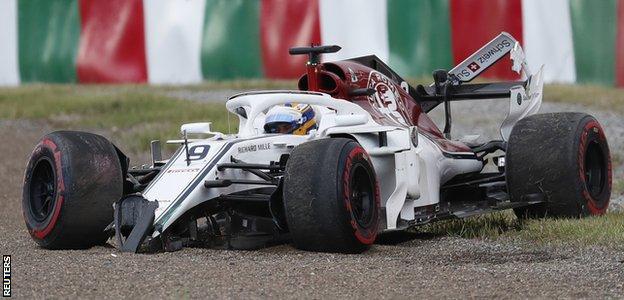 Marcus Ericsson has been involved in 11 spins or collisions during races in his career. Source: Forix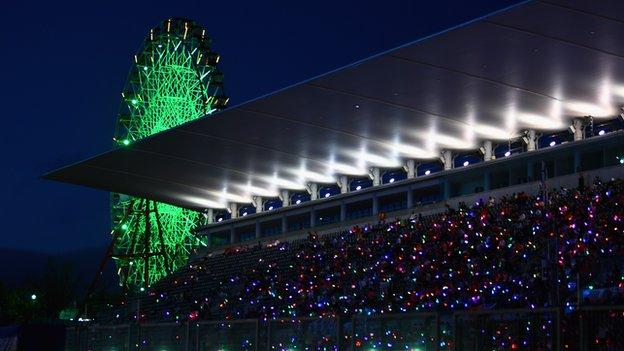 An array of colour at Suzuka